Qantas A330 Business Class review
Recently, our reviewer had the pleasure of experiencing the Qantas A330-300 Business Class product on the 9+ hour flight to Tokyo (Narita)* from Brisbane, and return. Here she shares her experience and tips with CTM.
Journey Details
Brisbane to Tokyo (Narita) – day flight, Seat 3K (window)
Tokyo (Narita) to Brisbane – overnight flight, Seat 1F (centre)
Seats
The A330-300's 28 Business Class seats are set in a 1-2-1 configuration, with aisle access from all seats. Each seat reclines into a fully flat-bed and features a side table, with slide out meal table, storage area below the side table for larger items and above the table for smaller personal items, a mirror, personal light and USB charging points.
The ability to have your Business Class seat in a pre-set recline position during taxi, take-off and landing is a stand out feature. This made for a comfortable journey from the moment we sat down and was greatly appreciated on the evening flight. Due to this recline option, a sash belt is required to be clipped to your waist belt during take-off and landing.
TIP: Hold the button until your seat is firmly locked in the pre-set recline position, this illuminates the green light on the side of your seat – you will be asked to sit up if the light is not illuminated.
Row 1, or nearby, are a good choice for evening flights as the galley is located at the back of the cabin. Despite being near the crew area and cockpit, there was very little movement at the front of the plane throughout the journey. Row 7, on the other hand, may be a little more disrupted with both a toilet and the galley located behind.
Window Seats
Rows 1, 3, 5 and 7 – on aisle seats. This layout provided a larger storage area for personal items under the side table than other seats. During the day, being directly on the aisle was not an issue but with no side screen and little buffer between you and the aisle, this may not be the preferred pick for overnight flights (this is also true of centre seats with the same layout).
Rows 2, 4 and 6 – true window seats. While you have a slightly smaller under table storage area, this configuration provides more privacy from the aisle and a buffer between you and passersby, a possible advantage for passengers wanting to sleep.
Centre Seats
The two centre seats, like the window seats, alternate between being positioned directly on the aisle (1E, 2F, 3E, 4F, 5E, 6F, 7E) and having a side table between you and the aisle (1F, 2E, 3F, 4E, 5F, 6E, 7F). While in 1F, the positioning of the side table for neighbouring 1E made it feel like I had a table on each side. In an aisle side seat, be aware, your neighbour may accidentally encroach on your table.
If travelling with a partner or colleague, it's important to note the privacy screen between seats is not movable. While only a half screen, this makes it little harder to interact with the person next to you but does allow for a good break and relaxation.
See the full Qantas A330-300 seating chart here.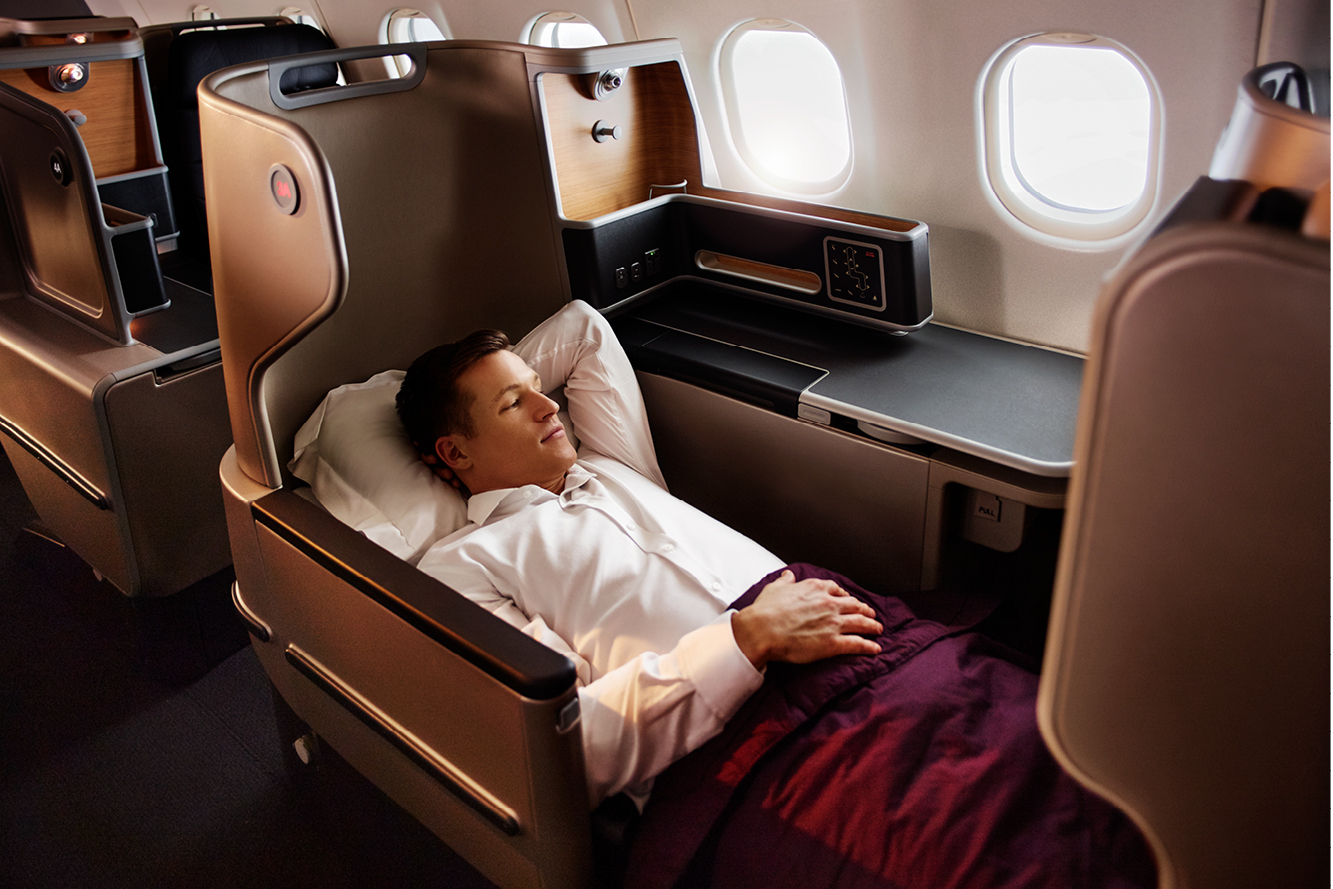 Service
The service on Qantas Business Class is some of the best in the industry. From the warm and inviting greeting received upon boarding to the cabin manager personally visiting each seat and thanking and shaking the hand of every passenger on decent.
Once on board, we were promptly asked if we would like a beverage, including champagne, and our food order was taken shortly after. Just after take-off from Brisbane the crew also offered to have mattresses placed on our seats for extra comfort during the flight, despite being a day flight to Tokyo (Narita). Throughout both flights staff reacted in seconds to the call signal and met every request promptly and graciously, there were no 5 to 10-minute waits for a drink or a snack.
Amenities
The Business Class amenities kit is presented in a zipped pouch featuring the artwork of one of 16 Australian artists. It contains an eye mask of the same design, earplugs, socks, toothbrush and toothpaste and a kit from ASPAR containing lip balm, face moisturiser and hand cream.
Impressively, Qantas pyjamas have improved since my previous pairs; the last received in early 2016. The newer style of pyjamas appears to be a softer material and elastic and has a slightly more generous fit, providing total comfort. You will only receive a set of coveted Qantas pyjamas if you are taking an evening/overnight flight.
There are two toilets servicing the Business Class Cabin exclusively, one at the front of the plane next to the cockpit and one at the rear; note that this is located directly behind seat 7K, beside the galley, when selecting your seat.
Entertainment
Each seat is fitted with a large entertainment screen, navigated via the touch screen or a small corded remote control provided in your side table. Business Class passengers also enjoy noise-cancelling headphones, so our entertainment was never interrupted by cabin noise.
Qantas provides a wide selection of new and recent release Hollywood and International movies, as well as movie and tv box sets, selections from various comedy, drama, documentary and reality television series – Japanese cinema and television were also front and centre on our flights to and from Tokyo.
Food and Drinks
Food
Food orders are taken prior to or shortly after take-off, to ensure you receive your meal promptly. You are also able to order food and snacks off the menu throughout the flight.
The menus, designed by well-known Neil Perry restaurant Rockpool, contained a selection of three to four entrees, mains and desserts. Traditional Japanese options for each of the three courses were also available on the flight from Tokyo.
Food was served about an hour after take-off. The food onboard was delicious and displayed thoughtfully on the plate. Portion sizes for mains were impressive for inflight dining, with these being the only long flights I haven't requested multiple snacks or another main dish.
Drinks
Champagne and range of wines, spirits and aperitifs were readily available throughout the flight, and the drink cart is taken through the cabin shortly after take-off. Sake is also available on flights to and from Japan but be aware they only load three to four small bottles per flight.
Food service was also promptly followed by the wine cart and Sommelier offering a range of beverages from Champagne to hand-picked Australian wines, with suggestions on what would best accompany our meals; the Champagne and Shiraz were both fantastic.
TIP: Cabin crew advised that you are also able to preselect your meal, on selected flights, using Menu Select, so it's all taken care of before you board.

Lounge
Qantas Business Class passengers enjoy full lounge access to Qantas Business Class Lounges, where available; with access to standard Qantas lounge in locations without a dedicated Business Class Lounge. Platinum and Platinum One level Qantas Frequent Flyers can also take advantage of the Qantas First Lounge, where available.
Overall, the Qantas A330-300 Business Class experience was thoroughly enjoyable, with the friendly and prompt Qantas service proving the real stand-out. I would recommend selecting your seat configuration and position based on day or night flights and how much storage you may desire at seat level.
The Qantas A330 (200 and 300) currently services international flights from Australia to Asia, Hawaii and key domestic destinations.
SHARE THIS PAGE: